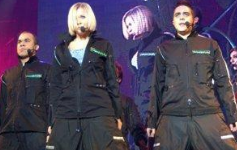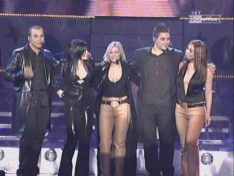 Cardiff International - Arena August 25 to 29
Glasgow SECC - August 3, September 1 and 2
London Wembley Arena - September 6, 7 and 9
London Docklands Arena - September 10, 11 and 12
Birmingham NEC - September 14 to 16 and 28
Newcastle Telewest Arena - September 17 and 18
Sheffield Arena - September 20 and 21
Manchester MEN Arena - September 22 and 23 and 29 and 30
Belfast Odyssey Arena - September 25
Dublin The Point - September 26
The Hearsay tour 2001
News of the world 26/08/01 Hear'Say kicked off their long-awaited sell-out tour in Cardiff on Saturday - almost a year to the day of their first audition.
They performed a stunning 90-minute set in front of 5,500 fans, finishing with record-breaking No1 Pure And Simple. It was a hometown show for Welsh Noel, who was clearly moved by the reception. He said: "It was special. We'll all have favourite moments from the tour. I've already had mine."
HEARSAY'S first UK tour is set to go down a storm with a spectacular set that sees them swooping on to the stage on wires suspended from the rooftop. And - after being given a sneak preview of the show at rehearsals -
s a result of massive demand, the Cardiff gig was extended to include 25, 26, 27, 28 and 29 August. There was two performances on the 26th, one in the afternoon, and one in the evening.
Danny, Myleene, Kym, Suzanne and Noel were all due to belt out solo numbers at Cardiff International Arena, where the tour kicked off on the 25TH. Hours before the band were due on stage, they told us: "We're so nervous. We just hope we can remember everything on the night. We've been waiting for this moment all our lives and it's finally here." The solo spots will be the talking points of the 90-minute show.
The audience certainly had plenty to scream about during the show. The band entered by dropping from the ceiling on ropes and entertained fans with impressive dance routines and spectacular sets including an enormous pinball machine. As well as performing No 1s Pure And Simple and Show Me The Way To Your Love, Hear'Say played Popstars' favourites Bridge Over Troubled Water and Monday Monday and most of the tracks from their debut album. Upbeat songs The One and Not The Kind were particular highlights.
Each band member performed a solo cover song, with Kym dedicating her version of LeAnn Rimes' How Do I Live to her children David and Emily. The band also got everybody dancing with a Gloria Estefan Latin medley, complete with explosions of glitter and confetti. Myleene led film cameras backstage to give fans a sneaky peek into Noel and Danny's dressing room and there was even a tribute to Darius when three audience members got the chance to perform their own versions of Baby One More Time. Myleene is doing a cover of Tina Arena's Chains, Suzanne chose Madonna's Express Yourself and Noel, who is performing for his home town, has chosen Luthor Vandross's Never Too Much. Danny will belt out I Found Lovin' by Eighties funk outfit Fatback Band.
Hear' Say set world record for loudest fans Hear'Say have set the world record for having the loudest pop fans in a single location. About 10,000 generated a sound level of 128.8 decibels on the first London date of their UK tour. Guinness World Records working with Wembley Arena has challenged UK pop fans to overtake this benchmark over the coming months. Guinness World Records researcher Della Howes said: "It was louder than a jumbo jet. The noise was the loudest we have ever recorded for a single group of people in one location.
"This record will take some beating."